A Day in the Life of a Restaurant Owner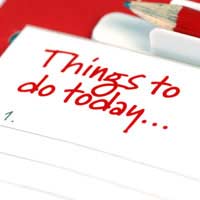 Owning your own restaurant is rather like having a new baby to look after. You will no longer have any time to yourself and there will be plenty of sleepless nights!
Before you decide to launch your own restaurant – probably most important if you have not run a restaurant before – do be really honest with yourself as to what you expect your working week will be. In fact, there will not really be a typical working week. For a long time to come you will need to spend every waking hour building up your business – a day in the life of a restaurant owner is a long list of tasks, food preparation, people management and hassles with suppliers!
If you do not feel able to deal with this, get out while you still can. But don't forget that amazing human 'fight or flight' response. Somehow we are able to make the most of a difficult situation, to keep on going even when everything is collapsing around us. We can think that we wouldn't be able to cope, but in reality, we do. So, remember this when you are up to your knees in dirty water because the dishwasher has broken in the middle of service!
Breakfast Time
If your restaurant is going to serve breakfasts, then you will need to be up early. Eating breakfast in a restaurant is becoming an increasing popular choice – either for business people looking for a venue for a meeting early in the day or for people who work from home wanting a break away from their desk before their day starts.
In a working week, breakfast tends to be a relatively speedy affair - customers cannot linger over coffee and croissants in the same way that they would on a weekend. You will need to get them in and out in good time – without feeling rushed.
You will need to be at the restaurant in good time to open and set up.
If you are not serving breakfast, the morning is the best time to receive the freshest daily supplies of fish, meat and vegetables. Check through your order before the delivery person drives off.
Lunch Time
Again, business people using your restaurant will need to enjoy a relaxed lunch break within their hour off. Establish a lunch time menu that is practical for the chef to get out in good time – healthy, tasty and quick to prepare. Some popular dishes, like steak and chips, work very well on a lunch time menu and are a popular choice for business and leisure diners.
If you are the front of house manager for your restaurant, be visible. Greet people as they come in and stroll around and chat to people. However, don't let your ego get the better of you and start thinking that people are there to see you and want to talk to you all through their precious lunch break – they don't.
Evening
Unless you are a city of London brasserie, the evenings will be your busiest time. Give yourself an hour or two off in the afternoon to prepare yourself for evening service – we can only run on adrenaline for a little while, so it is better to get into good habits from the start. You could even squeeze in a little nap. Have a healthy snack with some fresh fruit or juice to keep you going and stop you picking up every bug flying around.
At the beginning of evening service, brief your waiting staff properly so they know what the specials are and if there is a particular dish or wine you are trying to promote. Deal with any last minute hassles such as someone calling in sick. If necessary, be prepared to roll your sleeves up and get involved. Then roll into bed ready for the same again tomorrow!
You might also like...