Start Up on Your Own or With a Partner?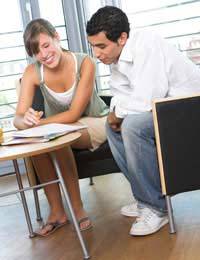 Much as you can gain a great deal of support – not to mention a shared load in terms of risk, stress and ideas – when you go into business with a partner, so too can it be a hot bed of disagreements.
If you are thinking about starting a business with a partner, give yourself plenty of time to gather as much information as possible to see if you are compatible business partners.
Many people find that it is not their husband/wife/best friend that they are most suited to being in business with, especially if that business is the restaurant trade.
Starting a Restaurant with Your Spouse
Running a restaurant takes a great deal of your time and money. The hours are unsociable every single week, let alone thinking about opening for Christmas, Mothers Day and practically every significant date on the calendar. Many couples do choose to run restaurant together, with lots of family restaurants doing a roaring trade.
You may be one of the lucky ones that can fuse the cooking and front of house skills between you and be able to keep the profits in the family rather than shelling out for staff (daughters, sons and their school friends make great waiting staff!)
The less lucky may find that they cannot bear being in the same space as their spouse twenty four hours a day, seven days a week. This is perfectly healthy. We all need some space for ourselves. If you decide to open a restaurant with your husband or wife, make sure you have time together outside of work as well as time apart.
Starting a Restaurant with a Partner
If you choose to launch your startup restaurant business with a partner that you are not romantically involved with, you need to clear about all the legal aspects of your decision. Make sure you are both clear about who is investing what, what your expectations are for each other, how you plan to spend your time and money and what is each of your responsibility. These are just the tip of the iceberg in terms of clarifying all the details that could go wrong – get legal advice before you sign any leases or hand over your savings.
The type of person that is suited to going into business with is someone that you trust, respect and believe in. You do not need to have the same life values necessarily, but you certainly do need to share similar goals in terms of your business.
Could you Go It Alone?
Although you can share a lot of the difficulties with a partner, you also have to share the decision making. Some people flourish when they have a sounding board and do not need to be the one that makes the decisions. Others get frustrated when they have a great idea and are keen to make it work, whatever it takes, only for their more sensible friend to say 'Yes, but….'
Think about your character type, your dreams and aspirations for running your own business. Perhaps you are more suited to being a sole trader in the restaurant business than sharing it with a partner. If you're not, make sure you find the right person to share it with.
You might also like...