Headhunt a Great Chef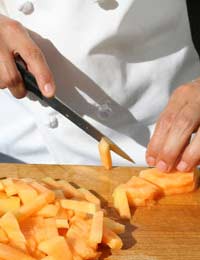 If you speak to any number of restaurant owners about the biggest problem they face, the majority will grimace and say 'finding a good chef – and keeping them'.
There is no doubt that there is a shortage of decent, reliable chefs in the UK. One theory is that, for a number of years, catering has not been considered a very impressive career to go into, so there are fewer and fewer trained chefs working their way up.
Another theory is that the rise of seemingly 'easy' careers, such as footballers wife, Big Brother contestant and lottery winner means that young people today are not prepared to go through the hours of tedious, low paid work involved in being a commis chef.
However, with celebrity chefs now joining the ranks of 'people on the telly', catering is getting back into the consciousness of young people – catering colleges are seeing record number of new recruits, with restaurants being seen a glamorous place to work – and even better to own.
Mind you, this means that there is both a shortage of trained senior chefs currently – at second chef or head chef level and those that are training to be chefs are not totally in tune with the menial tasks that go with the territory.
This leads us to the growing popularity of headhunting a chef. More and more restaurants are finding that it is worth their while to pay the often steep recruitment fees in order to guarantee a decent chef.
How Much Does Headhunting Cost?
Headhunting a chef is an expensive business, with fees usually in the region of 15 to 20 per cent of the chef's first year's annual salary. This is payable when the chef starts work with you, although if they leave within the first three months there is usually a percentage rebate.
If you have decided that you want to headhunt a chef for your restaurant, the first place to start is by having a think about what chefs you know. If there is any way that you can do the headhunting yourself, you will save yourself a great deal of money. Although there are hunting firms that charge an absolute fortune, it is really not that hard once you know how.
Think about what restaurants you have been to where you have impressed by good food. Think about chefs that you have heard of, or restaurants you know. One word of warning – if you are keen to maintain a good local reputation, do not headhunt off your own competitors! If, however, you are in a major city – go for it!
How to Head Hunt
Once you have a list of potential candidates, you will have to do a little detective work. Visit the restaurant website, or go for lunch and see if you can find out the name of the chef. Build up a list and then set aside a morning to call them all. Be careful not to call in the middle of service – around 11am is the best time to contact a head chef. Ask to be put through to the kitchen – say you are a supplier if asked.
When you are talking to the chef, ask if it is a good time to talk, say you have been impressed by their food and reputation and would like to know if they are interested in talking about a new opportunity. If they are, suggest a time to meet for coffee, or give them your number to call you back. Then the negotiation can begin!
Using an Agency
If you decide to use a recruitment agency, be careful that you are not just handing over a list of names for them to call – you really can do this yourself and save a packet. If you use an agency, be aware that you can still negotiate fees and make sure that you have a refund scheme in place should the chef leave within the first three months.
You might also like...