Food Hygiene for Restaurants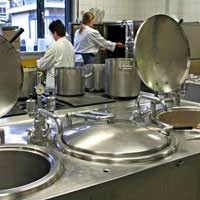 Good food hygiene in your restaurant is of paramount importance for the pleasure of your customers and the continued success of your business.
The type of restaurant that tries to squeeze out another day from their fresh cream desserts, or who simply employs a 'sniff test' for the fillet steaks instead of dating them may save themselves a few pennies in the short term, but they wont have a long term.
You, however, being the responsible, customer focused restaurant owner that you are, will be almost evangelical about cleaning, scrubbing and labelling until your hands are raw and your permanent marker has run dry.
(Of course, you can always pay other people to do all this manual work for you, but you get the picture.)
Get the Right Paperwork
In order to open a restaurant or any food establishment, even if you are just making cakes in your kitchen to sell at farmers markets, you will need to have a valid food hygiene certificate. This may sound terribly important, but the reality of the food hygiene certificate is that as long as you can wash your hands and stump up about thirty quid, you can have one of these babies in your hot little hands.
So, whilst you will have to make sure you and your catering staff are holders of a valid food hygiene certificate, don't go thinking that this is the answer to all your food hygiene prayers. See it as a safety net for the required paperwork and aim to develop your food hygiene training and that of your catering staff.
Use Common Sense
Food hygiene for restaurants is mainly just good old common sense, although as a holder of a food hygiene certificate you will be aware of some random requirements, such as separate sinks and no tea towels. Think about how to run a good domestic kitchen and then multiply it to daily activities for the restaurant. So cleaning floors and sinks must be done every day and no food should be left at an ambient temperature for more than 40 minutes.
Be especially careful if you have those types of buffet bars that are popular in pub chains – items like rice salads and hot dishes are terribly difficult to keep at safe temperatures for long periods of time, with the required equipment being expensive to install. This may also make you think twice about choosing such dishes when you eat out.
A Visit From The FSA
You can request a visit from the Food Standards Agency, or you may be required to have a visit from a representative. They will want to see all your paperwork is up to date and may also sneak in unannounced and check out how you operate. Watch for a geeky type bloke eating by himself, on a week day, with a note pad – but of course, that's a stereotype.
Assuming you are a responsible restaurant owner, you will want to do the right thing. Get a food hygiene certificate, make sure your chefs do, clean thoroughly every day and store food quickly and appropriately. Oh, and watch out for men in cheap suits on a school day.
You might also like...