Maximising Waiting Staff Efficiently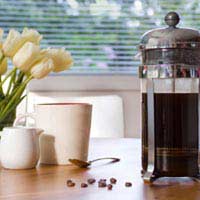 As long as you pay your waiting staff fairly and give them decent breaks with food and drink, you can maximise their working time for the benefit of your restaurant and your profitability.
There are four key areas where relatively competent waiting staff can save you time and money, and save your chef stress and unnecessary tasks.
Cold Starters
Although you cannot offer all cold starters, you can certainly carefully plan your menu to include starters that your waiting staff are able to prep by themselves. A good example of this is pate and crackers. The chef can make a terrine or individual pots of fancy pate during their 'down time' and you can buy in or make crackers, melba toast or crostini and some sort of chutney or sauce. You just need to show your waiting staff exactly how you want it plated up, making the portion sizes especially obvious, and then they can prepare it when an order comes in.
Choosing the Right Garnish
It may seem that the idea of a 'garnish' on a main course plate is a little outdated, but it is still certainly popular as long as you choose the right items. Whereas we may have been used to a tomato half chopped into a flower for pub lunches in years gone by, now we may have a little puddle of rocket with red onion or pea shoots. Whatever suits your food, your restaurant and your customers for a little garnish, your waiting staff can prepare it. Have whatever it is prepped and ready to put on the plates before service and on the waiting side of the pass. Make sure the waiting staff know what garnish goes with what dish and then the chef simply needs to cook the main and it can be finished by the waiting staff as they pick it up off the pass.
Easy to Prepare Puddings
Puddings are a great way for your waiting staff to earn their keep! If you plan your menu carefully, you can offer a range of puddings that actually need very input from the chef on the night. If you think of popular pubs like apple pie or ice cream sundaes, the chef can make whatever elements you choose (the pie, the ice cream, the shortbread, the chocolate sauce… or you may choose to buy it all in) and the waiting staff can assemble it as the orders come in.
Coffee to Finish
There is no reason for the chef to be making coffee after they've done a long shift. If you have a fancy coffee machine, have it on show so people can see it. If you just use mini-cafetieres, take them out to the customers to 'plunge' themselves – and save your time! A great added-value coffee offer is liqueur coffee – just show your waiting staff how to whip the cream, add plenty of sugar to the coffee and then let the cream fall off the back of a teaspoon onto the coffee.
A Quick Note!
It's important that your waiting staff do all these tasks (perhaps not including the coffee) out of sight from the customers. It may sound strange, but customers like to feel like a professional chef has prepared their meal 'personally', rather than students pulling stuff out of a fridge!
You might also like...