Should you Buy a Restaurant Franchise?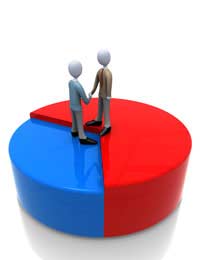 If you have thought about running a restaurant but do not want the entire process to be down to you, it may be that buying a restaurant franchise will suit you. This is not an option that is suited to everyone though, so let's look at the pros and cons and try to understand who would enjoy running a franchised restaurant chain.
There are a wide variety of business franchise opportunities for the potential restaurant owner, although they do tend to be at the lower end of the market. That is not to say that you cannot buy a quality franchise, but if your dreams of running your own restaurant start with Michelin starred food, a franchise may not be for you.
What Types of Restaurant Franchise Can You Buy?
High street type takeaways, sandwich bars and fast food type restaurants are the most common and readily available franchise. For a start up business, you would have to decide if this sort of food is what will drive you to get up and work every morning. Chains such as McDonalds, KFC and Subway are popular choices for franchise businesses because you already have a great deal of marketing and sales force behind you.
If you are looking for a slightly more 'dining' type place to invest in, chains such as Nandos can also be bought as a franchise. Although you may see celebrity chefs opening a number of restaurants, they tend to own the whole company and not offer their businesses or name as a franchise.
What Do You Get When You Buy a Franchise?
The main reason people looking to buy a business invest in a restaurant franchise, or indeed any franchise, is that they are clear about what they are buying. You have a clear deal of what money buys you what – this is usually a set fee, perhaps plus a percentage of turnover, in exchange for the use of the business name, strict guidelines for operating and access to suppliers, marketing and business advice.
This is where the whole 'pros and cons' business comes into it – some people love this and others hate it. Some people say 'why would I want to be told what food to serve or what colours to have the walls?' – these people want to run their own restaurant autonomously and are not suited to buying a franchise. They would be better to spend the money setting up their own place, just how they want it.
The other people say 'I wanted to do something with my time/money/business skills and this chain is recognised and will take away a lot of the questions'. These people are well suited to a franchise because they want to run business, rather than they have an all encompassing passion for food, cooking and serving people.
Read the Small Print
There are probably as many people that are pleased they bought a franchise as there are people who would not suggest it to their worst enemy. Make sure you check the small print for lots of reasons – don't agree to hand over a large percentage of your profits, don't get sucked into having to buy certain products from certain suppliers at offensively inflated prices. Get your franchise contract checked out by a legal expert who is used to start up business details and giving business advice.
You might also like...
@Alison - we can't recommend any names directly however if you Google restaurant courses you should find one that is suitable for you, as well as plenty of other online written advice and tips. Make sure you do plenty of research first to make sure your business has all the groundwork to succeed.
RunARestaurant
- 5-Jan-15 @ 11:01 AM
Hi can anyone recommend a good intensive short course on owning and managing a restaurant? Thanks Alison
Alison
- 29-Dec-14 @ 1:00 PM