Using Social Media for Business Growth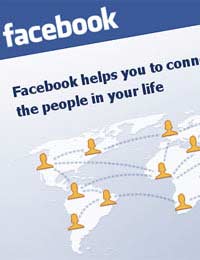 In a difficult economic climate, businesses need to be even more inventive with marketing and advertising. There is not so much money around to throw at publicity so it's worth thinking about what can be done for free.
Social networking is a great way to build awareness of your business for free, with the added benefit of promoting your restaurant as a fresh modern place to see and be seen. Even if you've never used social networking before, or think it's just for kids, it is worth considering because you can easily build a network of people without hardly any investment – all you'll need is a computer with internet access, which you probably have already!
Twitter
Perhaps the most famous social networking site that is widely used for commercial purposes is Twitter. It's a very simple site that is free to use and very easy to set up. You simply need to register and make a profile – it's worth branding your site to match your restaurant by having a name that's related to your restaurant and having your menu or a photo as background. You can now start 'following' other tweeters and have tweeters following you.
It is not a good idea to simply bombard your followers with advertising though. The idea of social media like Twitter is that people are sharing information about themselves, so tweeting about a new menu is best balanced with perhaps a competition for a free meal or talking about an ingredient that is in season.
You will find that a good way to build your Twitter profile and increase your followers is to get involved with discussions that relate to the restaurant industry, whether that is about celebrity chefs, cooking programmes on television or seasonal ingredients. Post links to interesting articles and get noticed as an expert in your field.
Facebook
Setting up a Facebook fan page is also a good way to get people talking about your restaurant. A fan page is different to a standard Facebook profile in that it is not about your personally, so your fan page and personal profile can exist independently.
Create a Facebook fan page by adding information, pictures and links to your restaurant and then ask people to join your group. Social media works best by getting people involved and asking questions, so competitions work really well, as do polls and questionnaires. Build your business using Facebook by posting about special offers and theme nights and get your fan members to invite their friends to join.
Blogging
Starting your own blog is another way to build your restaurant business using social media. Although you may think that writing a blog can take up too much of your valuable time, you'd be surprised how quickly they grow when you add in photographs, customer comments and restaurant reviews. Restaurant blogs have become an important element in trend tracking in the restaurant and hospitality industry too, with PR companies, food suppliers and food writers actively seeking out the views of food bloggers to stay one step ahead of the market.
Starting your own blog is very easy, even if you don't have your own website (although you really should have one by now to promote your restaurant – every business must have a website now). You can set up a blog using providers like blogspot or wordpress and link it to your site, or just have it as a stand alone blog.
Do be aware that whatever you write on your blog, on Twitter or on Facebook will reflect on your restaurant business so don't say anything that you're not proud to stand behind. That doesn't mean that you have to praise all your suppliers if they're not up to scratch, but building your business using social media can be so transparent that you must be aware of how you're presenting yourself and your business.
You might also like...