Understanding Portion Control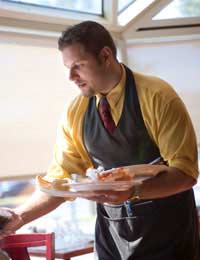 Understanding portion control is one of the most important aspects of running a restaurant. It can impact on so many areas of your business that it would be crazy not to take time out to appreciate what portions are suitable for your restaurant – and budget accordingly.
What is Portion Control?
It may sound obvious, but it is easy to think that portion control is only about the size of the meals that you serve. It is actually far more than that, because even if you have 'steak and chips with grilled tomatoes' on your menu, how big the steak is can have a huge impact on your bottom line, yet you could charge the same amount by choosing better quality tomatoes and making a selling point of your chips while actually cutting the cost of your dish.
So portion control is about the cost of the different ingredients of your as much as it is about the quantity on each on the plate.
Portion Control & a Smooth Running Restaurant
Being organised in the kitchen makes a big difference to how smoothly your service runs, which in turn means you can do more covers and make more money. Portion control plays its part in this as it allows the chef to direct his team to operate effectively. Far more good sous chefs and waiting staff leaves restaurants because the head chef is disorganised and stressed than for any other reason, so having a smooth running kitchen helps your staff turnover too!
Prepping your ingredients carefully and showing your team how you want each dish plated up is a great way to maintain strict portion control, and it is less stressful for your team as they will know exactly what to do.
Portion Control & Managing Costs
By knowing exactly how much of each ingredient or item you will have on each plate for each dish on your menu, you will be able to work out precisely how much each dish costs, and then work out your prices accordingly. There will be some variation depending on what is in season or market fluctuations, but as long as you work with what is in season and do not make expensive mistakes (like using fillet steak to make a beef and ale pie – use skirt, it's tastier and costs a quarter of the price).
Portion Control & Style
Even though the 'nouvelle cuisine' trend of having a tiny portion of food on your plate and being charged a fortune for is long gone, it is still true to say that the quantity of food on the plate that is served in your restaurant has a baring on the style on your establishment. Plates piled high with burgers and chips might be great for a night out with friends, but it is not the type of place for a romantic celebration, so you need to think about the type of restaurant that you want to run in order to make decisions about suitable portions.
Good home cooking, even if that is served in a restaurant, needs to be in generous portions, but that doesn't mean that you can't be savvy about what you dish up. Using plenty of seasonal vegetables and interesting carbohydrates can make your plates look plentiful when actually the more costly protein element is relatively small. Of course you don't want your customers' going away feeling like they've been ripped off, but a satisfying meal doesn't need to have loads of the most expensive ingredient.
Similarly, a restaurant that has a reputation for fine dining cannot just pile up the vegetables and potatoes without a bit of flair. Think about the type of restaurant reputation you want to cultivate, the type of food you want to serve and the customers you want to appeal to, and then you can think about suitable portion control to match that aim.
You might also like...
I love this site,you guys realing done a very nice job,keep it up!
Monarchy
- 13-Jul-12 @ 12:56 AM