Should You Include Dietary Information on Your Menu?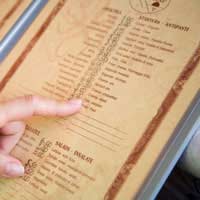 There is a growing trend for restaurants and fast food outlets to provide nutritional information on their menus, with many of the country's biggest names in fast food already offering this to their customers.
It is not as easy for a small restaurant to provide such information as it is a labour- and cost intensive process to assess each meal and its nutritional and calorific content as they do not have the same infrastructure and resources, so it is no surprise to note that very few privately-owned restaurants do this.
Current Rules & Regulations
As yet, there is not an official ruling that states that restaurants need to provide nutritional and calorific information on their menus, although as the awareness healthy eating increases, this is likely to change.
The current situation is that the Food Standards Authority (the FSA) is working to make consistent dietary information on all menus standard regulation, with all areas that show menus, such as the board in fast food restaurants as well as 'hand-held' menus showing the information. While there has not been an announcement on this, and indeed there are talks that the FSA will be scaled back in accordance with the Government's cuts, it is clear that this is the way the industry is going.
The FSA's research highlights that 85 % of British consumers want to see further information on menus in order to make more informed choices in what they chose to buy. The British Government is also keen to promote healthy eating and consumer responsibility in making better food choices by including more information, particularly as the UK is seeing an increasing obesity epidemic.
What Do Customers Want?
Even though consumers, the FSA and Government are promoting the inclusion of dietary information on restaurant menus, the restaurant industry is a little more hesitant for it to be made a legal requirement because of the huge work load associated with it. This is especially true for the vast majority of privately-owned restaurants whose menus change regularly – indeed it is a changing menu that utilises seasonal ingredients that is most likely to be healthy, yet this will involve more work in ascertaining the nutritional information, whereas a fast food outlet where the menu never changes, other than perhaps the odd special, will find it easier.
What Dietary Information is Practical to Offer?
So while there is no official line on whether or not a restaurant needs to include dietary information on its menus, it is certainly a good idea to allow your diners to make healthy choices as it is known that this is what they want. Perhaps you could include suitable information such as 'healthy choice' or 'steamed not fried' and give your customers the choice of having dressings on the side, or a jacket potato instead of chips? Engaging customers is all about giving them information and letting them make choices that suit their own situation, so although you may not be able to go through every dish to find out its calorific value, you can certainly give customers as much information as possible and be flexible in how your dishes are served.
You might also like...