How to Establish Repeat Business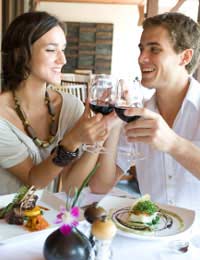 It is all well and good concentrating on new business, but the successful restaurant will make sure it builds repeat business from loyal customers. Many a restaurant has been able to get through difficult times because of its regulars coming back time after time, and indeed plenty of restaurants have failed because they were too busy chasing new customers and forgot to look after their existing client base.
So how do you create repeat business? There are a number of ways in which you can generate loyalty from customers, and whether they are type of people that will be in every week for a quick supper or once a year for a big birthday blow-out, they're all worth looking after. Don't forget how much people like to feel like a restaurant is 'theirs' – much like people enjoy having a local pub or bar – so encourage that with the following tips.
Be Generous If Possible
Everybody loves a freebie! While it would be crazy to give away all your profits, the odd glass of liqueur on the house will go a long way to create goodwill among your regulars. Now, you don't want to get into a habit that means people expect it, but a little extra here and there is a good idea – if not booze (although it's usually appreciated) try having little dishes of olives, nuts or petit fours as an extra.
Look After Regular Customers
Make sure you do the things that cost nothing but make people feel special. Remember people's names, their favourite drinks and their favourite table. If a regular has booked for their birthday or a special event, make an effort to greet them personally.
Have Special Offers
You are more likely to build repeat business if customers feel like you offer good value for money, rather than be trying to squeeze every penny out of them. Early bird menus work particularly well for people that want the experience of going out for dinner without spending a lot of money, and they're good for your bottom line too as you can book a second sitting on the same table. Have a limited number of choices and a glass or bottle of house wine for a set price and make sure it's clearly publicised.
Change Your Menu Regularly…
…But be careful to keep the favourites! If you and your chef take care to assess what your best sellers are, you can change the menu to keep it fresh without denying people their favourites. Be careful not to be too experimental, unless that's your USP, and use the information you have about what is popular to ensure you keep on the same lines.
Have Consistent Quality
There's nothing likely to put off potential regular customers quicker than having inconsistent quality. It's terribly frustrating to spend your hard earned money on a bad meal when you'd had a great experience at the same restaurant previously. This rests primarily on having a reliable chef and reliable suppliers – work hard to make sure you have both and do regular checks.
Create a Welcoming Atmosphere
A welcoming atmosphere is created by making sure the restaurant is a suitable temperature for the season (ideally air conditioning in summer and open fires in winter), you have unobtrusive yet interesting music (Best of Van Morrison is found in many restaurants!) and make it easy for customers walking in to see what they're supposed to do (no complicated ordering systems or hard to find staff). You don't want potential customers with money in their pockets walking out because they didn't feel welcome in your restaurant.
You might also like...