Retraining Helped Me to Cut Costs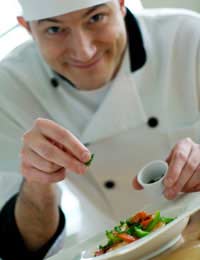 Although it can be tempting to do everything yourself when you start your own business, it is good to learn how to delegate in order to grow your business effectively. But it is far easier to delegate when you have a good team around you that are highly skilled and trustworthy, not to mention affordable.
For restaurant owner Gavin Salter, 41, from Norwich, building up a reliable team enabled him to quickly grow his business – and his profits. Gavin told us, "I had worked as a restaurant manager for a large chain for a number of years and had initially trained as a chef at catering college, but I'd always wanted to open my own restaurant in my home town. About five years ago I decided it was now or never, so I handed in my notice and used my savings plus a bank loan to take on a long-term lease in a great spot."
A Team of Staff
Gavin launched a restaurant that utilised local ingredients and offered affordable delicious food, with him running the restaurant alongside a team of staff. He continued, "I tried to keep staff costs down as much as possible, but I employed an excellent chef that had previously worked with me in the hotel chain. I recruited waiting staff from the local catering college and even roped my mum in to do front of house!"
This set up worked well until the rapid impact of the global financial crisis kicked in during 2008. Gavin said, "The change was so dramatic. We lost customers practically overnight as people cut right back on their spending, especially with 'luxury' items like going out to eat. We tried doing special offers but I could see that we needed to cut costs even more. I was able to reduce the hours of the waiting staff pretty easily because they were just on temporary contracts, but I was finding it hard to justify the cost of the chef, especially when we were so quiet."
Retraining as a Chef
Gavin decided to look into retraining as a chef himself in order to reduce the restaurant overheads, but was well aware that this would take time. He spoke to his chef about the financial difficulties the restaurant was facing. He said, "It was a very difficult situation because essentially I needed to ask my chef to cut back his hours and to train me, which wasn't easy. Thankfully, he understood the situation and was pleased that I was honest rather than finding a way to let him go, so we came to an agreement where I would go to catering college one day a week and he would train me, while being able to look for another job. I reduced his wages slightly, too, and we introduced a shorter menu to help keep our gross profit acceptable with minimal waste."
Working for Free!
After six months of intensive training, Gavin was able to take over in the kitchen and his chef was offered a permanent role at a nearby hotel. He concluded, "I saved a considerable amount by not having to pay a chef a salary as I was able to not pay myself through the worst of the recession. I've stayed in touch with my old chef and would happily employ him again when things pick up, but in the meantime I am just happy that the restaurant has been able to stay open throughout the recession when so many have been forced to close."
You might also like...