How to Write Your Menu to Boost Sales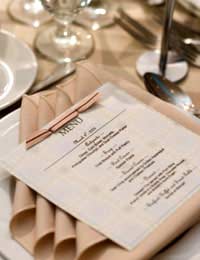 How you write your menu makes an enormous difference to your gross profit. Just think about foodie magazines and television shows – the reason why the chefs use descriptive words for their recipes is because it sounds more tempting.
If you imagine the different ways in which something simple like a piece of cheesecake could be described you'll have an idea of how much more tempting you can make your menu, even with the same dishes, and how that in turn will translate to a far healthier turnover. After all, 'a generous slice of creamy vanilla cheesecake made with local honey and caramel roasted pecan nuts' sounds far tastier than 'honey and nut cheesecake', doesn't it?
The Importance of Provenance
Customers nowadays want to know where there food has come from, and ideally how it's been treated. It can be assumed that if a menu doesn't say where the ingredients come from (particularly the meat, eggs and fish) then they have not been ethically sourced. So unless you say that your eggs are free range and your meat comes from a local rare breed butcher, people will assume it isn't – and possibly choose not to eat at your restaurant. So you need to shout about it!
A word of warning – unless it's the style you're going for, do try not to be twee. It is very easy to slip into cute language when describing local farms and produce, so don't go too flowery or you may put customers off.
Understand Your Market
There's no point writing your menu in a way which is not suited to your target audience. For example, if you are mainly serving business lunches for professionals that will want to be in and out within an hour, don't make your menu sound like something they'd want to really linger over. That doesn't mean you have to fall into the trap of calling everything 'speedy' or 'quick', but certainly make it clear that you can serve delicious food quickly.
You can also have different menus for lunch and dinner, with the same dish described in a different way. So steak and chips at lunch time is described as 'char grilled filet steak with chunky chips' on the express menu, and becomes 'locally-sourced filet of beef served with hand cut chips and roasted vine tomatoes' on the evening menu.
Use Delicious Language
How you describe your dishes has a huge impact on how tempting they sound – which will have a direct impact on your bottom line. It's worth going to a number of different restaurants and seeing how they write their menus, especially places that have a similar feel to your own restaurant. People can be put off if a menu is all style over substance, but a well-written menu that's backed up by great food is always a winner.
Do remember that changing foodie trends means that a menu can look dated very quickly, especially if it's covered with last year's buzz words. We've all been in restaurants where sun dried tomato, rocket and pea shoots are on every dish! Keep up to date with trends by reading foodie magazines, attending trade shows and watching popular chefs on television, although the best way to be ahead of the game is to start your own trend.
You might also like...