Would You Benefit from a More High Profile Chef?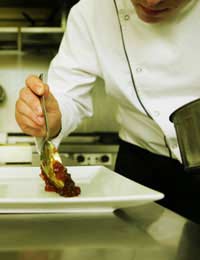 Having a high profile chef can certainly make a big difference to your restaurant, but it is not necessarily the case that having a chef without a 'known name' will make it less likely that your restaurant succeeds. It all depends on the suitability of the match between your restaurant and the chef – a high profile chef may bring in more customers than you could have dreamed of, but if you find it hard to work with him or he leaves you in the lurch, you may wish you'd stuck with someone more dependable!
So how do you weigh up if a more high profile chef will be good for your business? Ask yourself the following questions to be able to make a more informed decision.
Are You Happy with your Current Chef Situation?
If your current chef is giving you the results you require, including the gross profit, menu creativity and flexibility you need to operate a successful restaurant, it would be crazy to change just because another chef may be more high profile. On the other hand, if you are finding your current chef hard to work with, now may be a good time to consider a change. It is worth noting that head chefs have a notoriously high staff turnover rate.
PR Potential of a High Profile Chef
This depends on how high profile a chef you are considering, but remember that local restaurant scenes can create quite a buzz. Even if you're not able to afford (or would even want) a really famous television chef, local 'celebrity chefs' can gain quite a few column inches that can more than cover their inevitably higher salary.
Make sure you read the restaurant reviews in your local and regional newspapers, as well as the foodie magazines that are available. You will often hear about chefs that are looking to move, or that have won awards or are keen to try a new opportunity – these publications are the best source of information for chefs that are gaining a popular reputation that could benefit your restaurant.
How much you utilise the PR potential of a more high profile chef is up to you; yes you may get a couple of enquiries automatically, but you can really make the most of it by calling the local paper to say that you have a new chef or by writing to relevant publications. Start to build up a reputation with PR and media people and make the situation work in your favour.
Increasing Footfall
Customers like to go to a place that they are comfortable with, whether that's because it's their regular restaurant or because they've read about the restaurant in a publication they trust. With the right PR promotion you can certainly increase footfall if you have a more high profile chef. If you imagine that a tourist is visiting your town and a known chef works at a local restaurant, it is more likely that those tourists will try to book that restaurant rather than taking a chance on somewhere they've never heard of, so by making it that it is your restaurant that has the 'awareness' you are likely to capture those customers.
You might also like...