How We Handled the Recession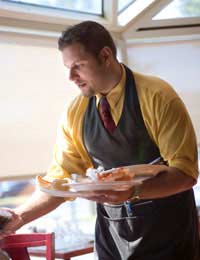 With pretty much all industries experiencing difficulties as a result of the global economic downturn, it is no surprise that the restaurant industry has been hit by people having less money in their pockets to spend on eating out. What the recession has introduced, however, is the concept of 'trading down', with many people saying that they still want to enjoy the experience of eating out once in a while, but are now more likely to spend their money in a less expensive restaurant than they may have previously chosen.
Capitalising on this trend has been a key element in Mick and Carla Dodd's experience of the recession being relatively positive, especially at a time when many of their competitors have needed to make staff redundant or have even gone out of business. The couple run a 'restaurant with rooms' in rural Cheshire and have built up a reputation for excellent local food.
Quick Thinking
Mick told us, "Carla and I have been running our restaurant for nearly 10 years, and we've built up an excellent relationship with the local community. When the impact of the recession first kicked in at the end of 2008, we thought that we could basically carry on as before and ride it out, but it quickly became clear that we were going to have to make some changes as our business slowed down pretty rapidly."
Carla continued, "We realised that although many of our regulars were still coming to the restaurant, they were spending far less money. We also had a dramatic reduction in people staying overnight, which was a considerable part of our profit margin. We decided to be very scientific with our analysis of where our money was coming from – and what each part of our business was costing us to run – in order to make the most of our business and what was shaping up to be a difficult time."
Good Value Night Out
With the realisation that people, particularly local people, still wanted to have the experience of eating out but without the usual price tag, Mick and Carla introduced a series of special offers that were carefully designed to deliver a good night out for their loyal customers, but without cutting into the business's gross profit.
Mick explained, "We found that customers who would previously have enjoyed three courses and a bottle of wine were now only having a main course and perhaps sharing a sweet, and the price point for wine dropped considerably. So rather than have in all the ingredients required for starters and have people just buying a glass of wine rather than a bottle, we did 'two courses for £10' deals, and a special offer where couples buying three courses got a bottle of wine for free."
Carla added, "Rather than sending out vouchers or making people feel uncomfortable by having to give a voucher to the waiter at the end, we made the offers available to everyone, and had a big banner made for outside."
Cost Effective Ideas
The couple also amended their menu to reduce the number of options available, which had a considerable impact on their gross profit due to reduced waste. Mick explained, "We very quickly saw that we were throwing away good quality produce because people were sticking to the most affordable options so that they could still go out without breaking the bank. So we just introduced a special each day and kept the most popular dishes, including a roast on Sunday and a 'pie of the day', and this enabled us to reduce our prices too."
With so many small but smart ideas to keep their costs down, Mick and Carla were able to pass on the savings to their customers.
You might also like...