Renegotiating Deals After Your First Year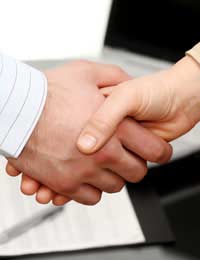 Once you have successfully completed your first year in business, you will be able to appreciate just how far you've come.
The first year in business is certainly the hardest – you have no experiences to draw on, no precedents set and no loyalty from customers, staff or suppliers.
Once you have got through the first year, you can take advantage of all the experience you have gained and put new negotiations in place to benefit your subsequent years in business.
By collating your first year's business information, you can start the renegotiation process by saying that you have assessed the year's figures and need to clarify your costs in order to move forward into your second year in business, and beyond.
For many new business owners, starting 'difficult' conversations with suppliers, employees or landlords is one of the hardest things to get used to, but in order to get the result you require, you must stand up for yourself. Doing it this way gives you a good starting place for negotiation.
Negotiating With Suppliers
Once you have completed your first year, you can call or visit your main suppliers and say that you are getting ready for your second year in business and want to discuss terms with them. Of course, they will want to keep things the same, if not raise prices, but this is not good for you.
Do your homework – try to find out what other customers pay your suppliers and what the current market rate is. See if there is anything you can do to make your order more appealing for the supplier – can you guarantee a certain amount each order? Also, by looking through your paperwork, you should be able to tell which items are selling well so you can make sure your order is exactly what you require.
Negotiating With Your Landlord
So, you've come to the end of your first year's tenancy and now is the time to try to renegotiate. As always, you must do your homework. Landlords love to 'pretend' that they have a whole string of potential tenants lined up ready to pay them a fortune simply for the privilege of using their property.
Not only is this unlikely to be the case, it is also far more hassle for a landlord to get a new tenant in, especially if you have been a good tenant in your first year. Being a good tenant means that you have paid your rent on time, have not made a mess of the place and may have even added value to the property through good decoration.
Don't be intimidated by your landlord – they do not want to loose a good tenant. You could perhaps ask for a rent free period if you plan to improve the property, or until certain defects you have noticed are rectified.
Negotiating With Recruitment Agencies
If you have needed to use recruitment agencies to find staff for your first year in business, you can renegotiate your rates now. This is especially good if you have used an agency for temporary staff as they will have got used to you as a client and will be keen to keep you.
Start by suggesting a reduction in the fee structure, or offer an incentive like a reduction for multiple placements.
As with any negotiation, you don't want to battle so hard that the client isn't concerned about keeping your contract, it's about striking a good deal that is mutually beneficial.
You might also like...